Give the gift of love today or any day to the one you adore most. Forget roses that last a week. The Love Notch lasts forever! 
With The Love Notch, you choose the words and the one you love wears the message, everyday, around their wrist, forever!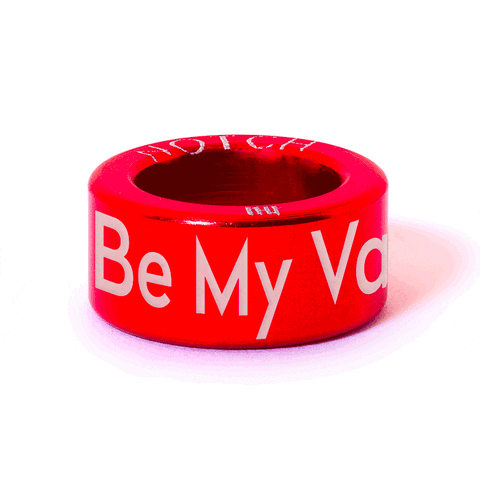 NOTCH® is the fashionable, stylish, go-anywhere bracelet designed for Notches (think of them as charms, but different!). And for each Notch you add to your bracelet, you choose an inscription or personal dedication.

Your Notch is engraved with 'Be My Valentine' in the colour of your choice. If your loved one doesn't yet have a NOTCH® Bracelet, choose The Love Notch Starter Pack, combining the Notch with one of eight fabulous bracelet styles.
More About Your Engraving
The NOTCH® name and logo are engraved on one of the outer edges and the rim is engraved with Be My Valentine.
Why not add an icon to your Notch engraving? We have dozens to choose from, and we're adding new ones every week. You can see the full range here. When you've made your icon choice, select it from the menu above, and we'll engrave it at the end of your text.
Alternatively, if you'd like to create your own special wording for the rim, see Personalised Engraving.
More About Your Notch

Notches are made from anodised aluminium or stainless steel and are hand polished. They have a 10.75 mm diameter and a 5.0 mm wide rim and are designed to fit perfectly onto one of our stylish NOTCH® Bracelets.
We use laser guided engraving for a clean, long-lasting result so your inscription is never forgotten.
Every Notch comes with two rubber spacers so as your collection grows, all your Notches sit snugly on your bracelet. 
More About Your Bracelet
NOTCH® Bracelets are made in the UK using durable sports cord or quality leather braid and feature our unique stainless-steel clasp, connected by two super-strong neodymium magnets, to give a safe yet firm audible lock.
They're stylish, colourful and available in four sizes. You'll be able to fit at least 20 Notches onto any NOTCH® Bracelet.
Notches and NOTCH® Bracelets are fine to wear 24/7. Great for training, work or going out. And fine to wear in the shower, bath, sea or tub!

More About Notch & Bracelet Starter Packs

The Be My Valentine Notch is also available as a Notch & Bracelet Starter Pack comprising the Notch and your choice of bracelet with a combined saving of £4.50.
The Love Notch & Bracelet Starter Pack